Patricia Kilburg Studio
1209 Pendleton Street
Greenville, SC 29611
www.patriciakilburg.com
Want to visit the Studio? Call 630-1652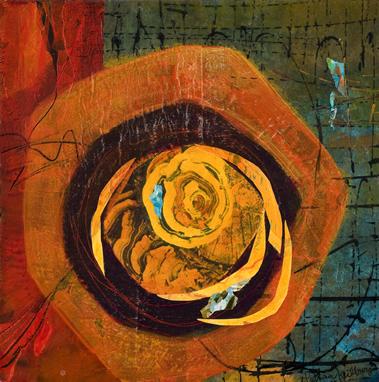 Earthworks Series
Acrylic/Mixed Media on Board
12" X 12"
First Friday Gallery Walk
April 3, 6:00-9:00 PM
First Friday Gallery Walk is coming to The Village of West Greenville. We hope you will join us in the Flatiron Building for refreshments, conversation and lots of art.
EXCITING NEWS!!!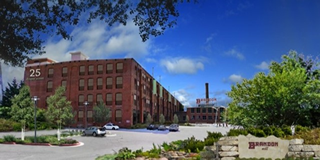 GREENVILLE CENTER FOR CREATIVE ARTS
Open House May 1st!
The newly formed Greenville Center for Creative Arts at 25 Draper Street in the Village of West Greenville in the Brandon Mill complex will be open next Month!  GCCA will participate in the  First Friday Gallery Walk on May 1.  On exhibit will be a selection of art made by some of the Founders of GCCA.  There will also be 10 working art studios to visit! 
Greenville Center for Creative Arts is a non-profit organization established in 2014 to provide a central place that will serve the needs of the Upstate of South Carolina in the visual arts.  It's stated mission is to collaborate with the community to provide classes, exhibit space, and a place to cultivate art appreciation and enjoyment,
GCCA is now taking registrations for art classes to begin in May online at www.artcentergreenville.org.  For more information regarding Greenville Center for Creative Arts see www.artcentergreenville.org and view the video:
 https://www.youtube.com/watch?v=nu8D6GNUr_I
ENCAUSTIC WORKSHOP at Greenville Center for Creative Arts
I will be offering two encaustic workshops at the new Greenville Center for Creative Arts, on May 15 & 16 and June 12 & 13.  See www.artcentergreenville.org to register.
ENCAUSTIC CLASSES
As usual, I will also be conducting workshops in my studio for 1-4 people at a time.
PATRICIA KILBURG STUDIO
1209 Pendleton Street
(864) 630-1652
www.patriciakilburg.com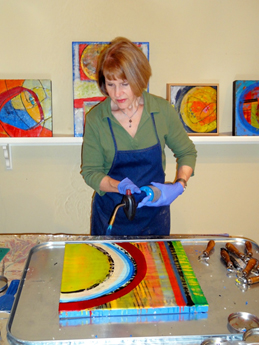 Experience encaustic, the ancient art of painting with pigments dissolved in hot wax.  Learn the process used for this luminous medium in a two-day workshop.  Includes basic painting and fusing, incising lines and marks, creating texture, and adding collage elements.  Artists of every skill level will create an encaustic painting.
$300, plus $50 materials
Bring a friend and receive a discount
Call 630-1652 to schedule.